ALESSANDRO CESTARO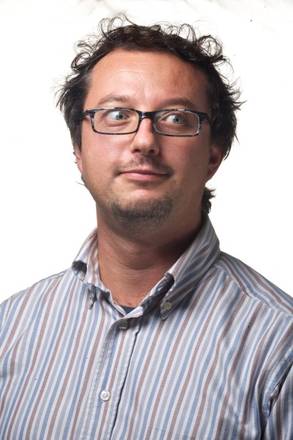 Phone

0461615554

E-mail

alessandro.cestaroSPAMFILTER@fmach.it
Alessandro obtained his MSc in Biology at Padua University in 2000 working in the Biophysics field; during this work he begun to explore the applications of Computer Science in Biology. Going further in that direction he gained his PhD in 2005, still at Padua University, with a thesis about genome sequencing and annotation of deep sea bacterium P. profundum. Since 2005 he works at Fondazione Edmund Mach as bioinformatician, specialized in genome data analysis and genome data management; he has been working mainly, on gene prediction and functional annotation of grape Pinot Noir genome and apple Golden Delicious genome.
Top Ten publications:
Ferrarini M, Moretto M, Ward JA, Surbanovski N, Stevanović V, Giongo L, Viola R, Cavalieri D, Velasco R, Cestaro A, Sargent DJ. "An evaluation of the PacBio RS platform for sequencing and de novo assembly of a chloroplast genome." BMC Genomics. 2013 Oct 1;14:670.
Troggio M, Surbanovski N, Bianco L, Moretto M, Giongo L, Banchi E, Viola R, Fernández FF, Costa F, Velasco R, Cestaro A, Sargent DJ. "Evaluation of SNP Data from the Malus Infinium Array Identifies Challenges for Genetic Analysis of Complex Genomes of Polyploid Origin." PLoS One. 2013 Jun 27;8(6):e67407.
Ometto L, Cestaro A, Ramasamy S, Grassi A, Revadi S, Siozios S, Moretto M, Fontana P, Varotto C, Pisani D, Dekker T, Wrobel N, Viola R, Pertot I, Cavalieri D, Blaxter M, Anfora G, Rota-Stabelli O. "Linking genomics and ecology to investigate the complex evolution of an invasive Drosophila pest." Genome Biol Evol. 2013;5(4):745-57.
Jung S, Cestaro A, Troggio M, Main D, Zheng P, Cho I, Folta KM, Sosinski B, Abbott A, Celton JM, Arús P, Shulaev V, Verde I, Morgante M, Rokhsar D, Velasco R, Sargent DJ. "Whole genome comparisons of Fragaria, Prunus and Malus reveal different modes of evolution between Rosaceous subfamilies." BMC Genomics. 2012 Apr 4;13:129.
Malacarne G, Perazzolli M, Cestaro A, Sterck L, Fontana P, Van de Peer Y, Viola R, Velasco R, Salamini F. "Deconstruction of the (paleo)polyploid grapevine genome based on the analysis of transposition events involving NBS resistance genes." PLoS One. 2012;7(1):e29762.
Velasco R, Zharkikh A, Affourtit J, Dhingra A, Cestaro A, Kalyanaraman A, Fontana P, Bhatnagar SK, Troggio M, Pruss D, Salvi S, Pindo M, Baldi P, Castelletti S, Cavaiuolo M, Coppola G, Costa F, Cova V, Dal Ri A, Goremykin V Komjanc M, Longhi S, Magnago P, Malacarne G, Malnoy M, Micheletti D, Moretto M, Perazzolli M, Si-Ammour A, Vezzulli S, Zini E, Eldredge G, Fitzgerald LM, Gutin N, Lanchbury J, Macalma T, Mitchell JT, Reid J, Wardell B, Kodira C, Chen Z, Desany B, Niazi F, Palmer M, Koepke T, Jiwan D, Schaeffer S, Krishnan V, Wu C, Chu VT, King ST, Vick J, Tao Q, Mraz A, Stormo A, Stormo K, Bogden R, Ederle D, Stella A, Vecchietti A, Kater MM, Masiero S, Lasserre P, Lespinasse Y, Allan AC, Bus V, Chagné D, Crowhurst RN, Gleave AP, Lavezzo E, Fawcett JA, Proost S, Rouzé P, Sterck L, Toppo S, Lazzari B, Hellens RP, Durel CE, Gutin A, Bumgarner RE, Gardiner SE, Skolnick M, Egholm M, Van de Peer Y, Salamini F, Viola R. "The genome of the domesticated apple (Malus × domestica Borkh.). "Nat Genet. 2010 Oct;42(10):833-9.
Lazzari B, Caprera A, Cestaro A, Merelli I, Del Corvo M, Fontana P, Milanesi L, Velasco R, Stella A."Ontology-oriented retrieval of putative microRNAs in Vitis vinifera via GrapeMiRNA: a web database of de novo predicted grape microRNAs." BMC Plant Biol. 2009 Jun 29;9:82. doi: 10.1186/1471-2229-9-82 .
Velasco R, Zharkikh A, Troggio M, Cartwright DA, Cestaro A, Pruss D, Pindo M, Fitzgerald LM, Vezzulli S, Reid J, Malacarne G, Iliev D, Coppola G, Wardell B, Micheletti D, Macalma T, Facci M, Mitchell JT, Perazzolli M, Eldredge G, Gatto P, Oyzerski R, Moretto M, Gutin N, Stefanini M, Chen Y, Segala C, Davenport C, Demattè L, Mraz A, Battilana J, Stormo K, Costa F, Tao Q, Si-Ammour A, Harkins T, Lackey A, Perbost C, Taillon B, Stella A, Solovyev V, Fawcett JA, Sterck L, Vandepoele K, Grando SM, Toppo S, Moser C, Lanchbury J, Bogden R, Skolnick M, Sgaramella V, Bhatnagar SK, Fontana P, Gutin A, Van de Peer Y, Salamini F, Viola R."A high quality draft consensus sequence of the genome of a heterozygous grapevine variety." PLoS One. 2007 Dec 19;2(12):e1326.
Bortoluzzi S, Scannapieco P, Cestaro A, Danieli GA, Schiaffino S. "Computational reconstruction of the human skeletal muscle secretome." Proteins. 2006 Mar 15;62(3):776-92.
Vezzi A, Campanaro S, D'Angelo M, Simonato F, Vitulo N, Lauro FM, Cestaro A, Malacrida G, Simionati B, Cannata N, Romualdi C, Bartlett DH, Valle G. "Life at depth: Photobacterium profundum genome sequence and expression analysis." Science. 2005 Mar 4;307(5714):1459-61.