Nutrition and nutrigenomics
Research unit (NN) - Food associated microbiomes for nutrition and sustainability.
The NN mission is to measure how microbiomes along the food chain can be harnessed to improve food nutritional quality and sustainability. We have a special interest in fermented foods (especially fermented dairy products), functional ingredients for trout, whole plant foods, their bioactive fractions (fibers, prebiotics and polyphenols) and probiotics. We examine how microorganisms impact on food nutritional composition and also, how diet shapes and regulates the gut microbiome in humans and production animals. Both of these microbial food interactions impact on host health and we conduct studies in human volunteers and model systems (in vitro gut models, dairy cows, farmed fish) to test these health promoting activities. We aim to provide clear cause and effect relationships between food intake and host health, and new mechanistic insight into how functional foods work. We collaborate closely with the Metabolomics Unit, the Computational Biology Unit, and the Centre for Technology Transfer at FEM to provide combined high resolution metabolite and microbiome analysis and add value to local and regional food chains. The "One-health" approach holds that feed and production systems which maximize farm animal and crop plant health will also improve the nutritional quality of our food products. We apply this one-health concept to our research, aiming to contribute to healthy diets, healthy lives and healthy ecosystems at regional, national and international levels by harnessing the potential of microbiomes along the food chain.
Main publications
Latest papers
Main papers
Staudacher HM, Lomer MCE, Farquharson FM, Louis P, Fava F, Franciosi E, Scholz M, Tuohy KM, Lindsay JO, Irving PM, Whelan K. A Diet Low in FODMAPs Reduces Symptoms in Patients With Irritable Bowel Syndrome and A Probiotic Restores Bifidobacterium Species: A Randomized Controlled Trial. Gastroenterology. 2017 Oct;153(4):936-947. doi: 10.1053/j.gastro.2017.06.010.
Hill CJ, Lynch DB, Murphy K, Ulaszewska M, Jeffery IB, O'Shea CA, Watkins C, Dempsey E, Mattivi F, Tuohy K, Ross RP, Ryan CA, O' Toole PW, Stanton C. Evolution of gut microbiota composition from birth to 24 weeks in the INFANTMET Cohort. Microbiome. 2017 Jan 17;5(1):4. doi: 10.1186/s40168-016-0213-y.
Basso N, Soricelli E, Castagneto-Gissey L, Casella G, Albanese D, Fava F, Donati C, Tuohy K, Angelini G, La Neve F, Severino A, Kamvissi-Lorenz V, Birkenfeld AL, Bornstein S, Manco M, Mingrone G. Insulin resistance, microbiota and fat distribution changes by a new model of vertical sleeve gastrectomy in obese rats. Diabetes. 2016 Jul 18. pii: db160039. doi: 10.2337/db16-0039
Ulaszewska, M.M., Trost, K., Stanstrup, J., Tuohy, K.M., Franceschi, P., Chong, M.F.F., George, T., Minihane, A.-M., Lovegrove, J.A., Mattivi, F. (2016) Urinary metabolomic profiling to identify biomarkers of a flavonoid-rich and flavonoid poor fruits and vegetables diet in adults: the FLAVURS trial. Metabolomics, Feb. doi: 10.1007/s11306-015-0935-z
Carafa I, Clementi F, Tuohy K, Franciosi E. Microbial evolution of traditional mountain cheese and characterization of early fermentation cocci for selection of autochtonous dairy starter strains. Food Microbiol. 2016 Feb;53(Pt B):94-103. doi: 10.1016/j.fm.2015.09.001
Projects
EUREGIO-EFH : EUREGIO Environment, Food & Health (EFH) deals with the growing socioeconomic challenges of age- and obesity-related chronic disease. Our mission is to lay the scientific basis for practical approaches to fight obesity and age-related chronic disease, providing innovative solutions and new products, valorizing regional food production chains while safeguarding the natural environment. The project is funded by the provincial governments of Trentino (Italy), Südtirol (Italy) and Tyrol (Austria) and will recruit 13 early stage researchers spread across research institutes within the three provinces.
CABALA_diet&health : CABALA_DIET&HEALTH is a project funded through the European Joint Programming Initiative (JPI) ERA-Healthy diet for healthy life (HDHL ) and coordinated by Fondazione Edmund Mach. It aims to test whether the enterohepatic circulation of BA and their blood profile constitute a novel biomarker of health responsive to both diet and gut microbiota composition.
SUSHIN : SUstainable fiSH feeds INnovative ingredients (SUSHIN) is designed test new ingredients to be used as feeds for the main fish species bred in Italy. The goal is to use innovative ingredients (obtained from insects, crustaceans, micro-algae and by-products of the poultry sector) to improve the nutritional status and food quality of sea bass, sea bream and trout. New formulations will be assessed for environmental sustainability; the aquaculture productivity and profitability; and consumer/market perception and acceptability. This project is funded by " Bandi AGER per il finanziamento di progetti di ricerca in campo agroalimentare ", a national competitive call.
TRENTINGRANA (PSR Trento Bando Operazione 16.1.1 "PRESENTAZIONE E LA SELEZIONE DELLE PROPOSTE PROGETTUALI DEI GRUPPI OPERATIVI DEL PEI IN MATERIA DI PRODUTTIVITÀ E SOSTENIBILITÀ DELL'AGRICOLTURA") funded by the Province of Trento is designed to build resilience into the Trentingrana Italian hard cheese production system by harnessing its associated microbiome to protect against bacteroiphage loss, design new innovative functional dairy products, measure their sensory characteristics and mine dairy waste streams as innovative plant crop protection agents. This is a collaborative project the between the FEM units for Nutrition & Nutrigenomics, Sensory Quality Unit, the Technology Transfer Centre, and the local consortia of dairy producers, CONCAST.
FRUITOMICS funded under the "Programma Operativo 2014-2020 Provincia Autonoma di Trento Fondo Europeo di Sviluppo Regionale - FESR: Sostegno alle infrastrutture di ricerca" includes high-level infrastructure investment in nutrition and clinical equipment to establish at FEM a human nutrition laboratory dedicated to the study of how food works in healthy humans to reduce the risk of chronic diet and age associated diseases.
---
Person in charge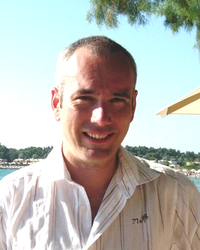 E-mail kieran.tuohySPAMFILTER@fmach.it
---
Staff