FABRIZIO COSTA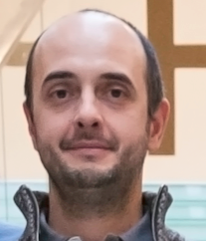 Phone

0461615563

E-mail

fabrizio.costaSPAMFILTER@fmach.it

Publication
Research Activity
The Costa laboratory is oriented towards a comprehensive study of fruit quality. To achieve this goal several approaches are employed.
Phenomics, for the development and implementation of high-resolution phenotyping device to dissects the fruit texture behavior.
QTL mapping, for the identification of the genomic loci controlling important agronomical traits. To this end, several methods are used: bi-parental QTL mapping, genome-wide association study (GWAS) and Pedigree Based Analysis (PBA)
Transcriptomics, with the ad hoc design of microarray platforms and RNA-seq analysis to investigate the expression pattern of genes related to fruit ripening.
Research Interests
The research of Costa laboratory is focused on the study of the genetic and molecular mechanism controlling the fruit ripening of climacteric fruit, mainly apple and pear. Among the several aspects impacting fruit quality, a particular emphasis is dedicated to decipher the interplay between cell wall, volatilome and ethylene production. We are mainly interested in the discovery of the fundamental genes involved in these pathways and the development of molecular markers suitable to assist the selection and breeding of valuable and high fruit quality novel apple accessions. The tool developed by the Costa lab. are also used for a better comprehension of the postharvest physiology, in order to improve the performance of fruits during storage.
Curriculum Vitae
2011- present Senior Scientist at FEM-IASMA.
2008-2011 PAT Post Doctoral Research Fellowship at FEM-IASMA granted by the Autonomous Province of Trento.
2007-2008 Post Doctoral Fellowship, Translational Plant genomics program at FEM-IASMA.
2003-2007 Post Doctoral Fellowship, European HiDRAS Project, University of Bologna.
2005-2006 Visiting Scientist at the Boyce Thompson Institute for Plant Research, Cornell University, Ithaca, NY, USA. Advisor: Dr. Jim Giovannoni.
2002-2004 Visiting Scientist at Plant Research International (PRI), Wageningen, the Netherlands. Advisor: Dr. Eric Van de Weg.
2002 PhD in Fruit Tree Plant Science, University of Bologna.
1999 Degree in Plant Science, Agricultural faculty, University of Bologna