Agricultural entomology
Research Unit (EA) - Understanding the biological mechanisms of perception and processing of the sensory stimuli involved in insect communication. The final purpose is to manipulate insect behaviour and develop innovative technologies for the agroecosystems and biodiversity protection.
The research unit deals with the comprehension of biological mechanisms that regulate phylogenetics, physiology and ethology of insect crop pests, thanks to the analysis of sensory communication and of ecological interactions. The main aim is to produce innovation for the development of new technology for sustainable plant protection and thus to preserve the agro-ecosystem and biodiversity.
One important topic is the understanding of how insects (and other invertebrates, both noxious and useful in agriculture) communicate and interact with plants and microorganisms (multitrophic interactions). Such knowledge is basic to study and develop integrated systems at low impact, such as semiochemicals (i.e. pheromones and kairomones) and semiophysicals (i.e. vibrational signals) to control insect pests. Other research topics deal with pollinators (i.e. bee colony collapse disorder) and antagonists for biological control (predators and parasitoids). All this research is embed into the Trentino's most important cultivations (grapevine, apple and small fruit), and deals with their key pests (i.e. leafhoppers, stinkbugs, moths, fruit and vinegar flies) with particular attention to the invasive alien species (i.e. Drosophila suzukii, Halyomorpha halys).
The research approach is strictly multidisciplinary and involves neurobiology/physiology together with genomics/evolution and it is performed both in the lab and in the open field. The unit works to disseminate and transfer the acquired knowledge to the scientific community, by organizing meetings and conferences, both local and international, but also to the stakeholders (i.e. industries, farmers, citizens) thanks to technical meetings and programs of citizen science.
The activities are done in strict collaboration with the Centre of Agriculture Food and Environment (Agricultural Entomology and Zoology, Prof. Gianfranco Anfora ) and the Department of Civil Environmental and Mechanical Engineering of the University of Trento. This synergy with the University of Trento allows the unit to include further aspects of neurobiology, modelling, applied ecology, advanced genomics and materials engineering and mechatronics. The aim of this collaboration is to reinforce the unit research and to extend its impact in terms of innovation but also to favor the participation to larger international networks and to get more easily access to funding.
The unit research is made of: 2 senior researchers (Valerio Mazzoni and Omar Rota Stabelli), 1 technologist (Livia Zapponi), 2 technicians (Elisabetta Leonardelli and Marco Deromedi), 8 PhD students (Aya Ibrahim, Gabriella Tait, Gordana Durovic, Imane Akassou, Kun Huang, Nicola Zadra, Robert Malek, Sabina Avosani), 2 master (Karen Wells and Valeria Fattoruso) e 1 postdoc grant holders (Alice Berardo).
Last 2 years publication:
Benazzo A, Trucchi E, Cahill JA, Maisano Delser P, Mona S, Fumagalli M, Bunnefeld L, Cornetti L, Ghirotto S, Girardi M, Ometto L, Panziera A, Rota-Stabelli O, Zanetti E, Karamanlidis A, Groff C, Paule L, Gentile L, Vilà C, Vicario S, Boitani L, Orlando L, Fuselli S, Vernesi C, Shapiro B, Ciucci P, Bertorelle G (2017). Survival and divergence in a small group: The extraordinary genomic history of the endangered Apennine brown bear stragglers. Proceedings of the National Academy of Sciences. doi: 10.1073/pnas.1707279114201707279.
Biolchini M, Murru E, Anfora G, Loy F, Banni S, Crnjar R, Sollai G (2017). Fat storage in Drosophila suzukii is influenced by different dietary sugars in relation to their palatability. PLoS ONE 12(8): e0183173.
Cattaneo AM, Gonzalez F, Bengtsson JM, Corey EA, Jacquin-Joly E, Montagné N, Salvagnin U, Walker III WB, Witzgall P, Anfora G, Bobkov YV (2017). Candidate pheromone receptors of codling moth Cydia pomonella respond to pheromones and kairomones. Scientific Reports 7:41105.
Conner WR, Blaxter ML, Anfora G, Ometto L, Rota-Stabelli O, Turelli M (2017). Genome comparisons indicate recent transfer of wRi-like Wolbachia between sister species Drosophila suzukii and D. subpulchrella. Ecology and Evolution 10.1002/ece3.3449.
Feuda R, Dohrmann M, Pett W, Philippe H, Rota-Stabelli O, Lartillot N, ... & Pisani D (2017). Improved modeling of compositional heterogeneity supports sponges as sister to all other animals. Current Biology, 27(24), 3864-3870.
Gordon SD, Sandoval N, Mazzoni V, Krugner R (2017). Mating interference of glassy‐winged sharpshooters, Homalodisca vitripennis. Entomologia Experimentalis et Applicata, 164(1), 27-34.
Guidetti R, McInnes SJ, Cesari, Rebecchi L, Rota-Stabelli O (2017). Evolutionary scenarios for the origin of an Antarctic tardigrade species based on molecular clock analyses and biogeographic data. Contribution to Zoology. 86, 97-110.
Ioriatti C, Guzzon R, Anfora G, Ghidoni F, Mazzoni V, Villegas TR, ... & Walton, VM (2017). Drosophila suzukii (Diptera: Drosophilidae) contributes to the development of sour rot in grape. Journal of economic entomology.
Karimi K, Ahari AB, Arzanlou M, Amini J, Pertot I, Rota-Stabelli O (2017). Application of the consolidated species concept to identify the causal agent of strawberry anthracnose in Iran and first molecular dating of the C. acutatum species complex. European Journal of Plant Pathology 147 (2), 375-387.
Kaur R, Siozios S, Miller WJ, Rota-Stabelli O (2017). Insertion sequence polymorphism and genomic rearrangements uncover hidden Wolbachia diversity in Drosophila suzukii and D. subpulchrella. Scientific Reports 7 (1), 14815.
Lòpez-Fernàndez S, Mazzoni V, Pedrazzoli F, Pertot I, Campisano A (2017). A phloem-feeding insect transfers bacterial endophytic communities between grapevine plants. Frontiers in microbiology, 8.
Malek R, Tattoni C, Ciolli M, Corradini S, Andreis D, Ibrahim A, Mazzoni V., Eriksson A, Anfora, G (2018). Coupling Traditional Monitoring and Citizen Science to Disentangle the Invasion of Halyomorpha halys. ISPRS International Journal of Geo-Information, 7(5), 171.
Mazzoni V, Gordon SD, Nieri R, Krugner R (2017). Design of a candidate vibrational signal for mating disruption against the glassy‐winged sharpshooter, Homalodisca vitripennis. Pest Management Science. DOI: 10.1002/ps.4619.
Mazzoni V, Polajnar J, Baldini M, Rossi Stacconi MV, Anfora G, Guidetti R, Maistrello L (2017). Use of substrate-borne vibrational signals to attract the Brown Marmorated Stink Bug, Halyomorpha halys. Journal of Pest Science 90: 1219-1229.
Mittelberger C, Obkircher L, Oettl S, Oppedisano T, Pedrazzoli F, Panassiti B, Kerschbamer C, Anfora G, Janik K (2017). The insect vector Cacopsylla picta vertically transmits the bacterium 'Candidatus Phytoplasma mali' to its progeny. Plant Pathology 66: 1015-1021.
Nieri R, Mazzoni V (2017). The reproductive strategy and the vibrational duet of the leafhopper Empoasca vitis. Insect Science. 10.1111/1744-7917.12454.
Nieri R, Mazzoni V (2018). Vibrational mating disruption of Empoasca vitis by natural or artificial disturbance noises. Pest management science.
Nieri R, Mazzoni V, Gordon SD, Krugner R (2017). Mating behavior and vibrational mimicry in the glassy-winged sharpshooter, Homalodisca vitripennis. Journal of Pest Science, 90(3), 887-899.
Pepiciello I, Cini A, Nieri R, Mazzoni V, Cervo R (2018). Adult-larvae vibrational communication in paper wasps: the role of abdominal wagging in Polistes dominula. Journal of Experimental Biology, jeb-186247.
Pertot I, Caffi T, Rossi V, Mugnai L, Hoffmann C, Grando MS, Gary C, Lafond D, Duso C, Thiery D, Mazzoni V, Anfora G (2017). A critical review of plant protection tools for reducing pesticide use on grapevine and new perspectives for the implementation of IPM in viticulture. Crop Protection 97: 70-84.
Pfab F, Rossi Stacconi MV, Anfora G, Grassi A, Walton VM, Pugliese A (2018). Optimized timing of parasitoid release: a mathematical model for biological control of Drosophila suzukii. Theoretical Ecology, 1-13.
Rondoni G, Bertoldi V, Malek R, Foti MC, Peri E, Maistrello L, Haye T, Conti E (2017). Native egg parasitoids recorded from the invasive Halyomorpha halys successfully exploit volatiles emitted by the plant–herbivore complex. Journal of Pest Science 90: 1087-1095.
Rossi Stacconi MV, Amiresmaeili N, Biondi A, Carli C, Caruso S, Dindo ML, Francati S, Gottardello A, Grassi A, Lupi D, Marchetti E, Mazzetto F, Mori N, Pantezzi T, Tavella L, Tropea Garzia G, Tonina L, Vaccari G, Anfora G, Ioriatti C (2017). Host location and dispersal ability of the cosmopolitan parasitoid Trichopria drosophilae released to control the invasive spotted wing Drosophila. Biological Control 117: 188-196.
Rossi Stacconi MV, Panel A, Baser N, Ioriatti C, Pantezzi T, Anfora G (2017). Comparative life history traits of indigenous Italian parasitoids of Drosophila suzukii and their effectiveness at different temperatures. Biological Control 112: 20-27.
Salvagnin U, Malnoy M, Thöming G, Tasin M, Carlin S, Martens S, Vrhovsek U, Angeli S, Anfora G (2017). Adjusting the scent ratio: using genetically modified Vitis vinifera plants to manipulate European grapevine moth behaviour. Plant Biotechnology Journal doi:10.1111/pbi.12767.
Tait G, Grassi A, Pfab F, Crava CM, Dalton DT, Magarey R, Ometto L, Vezzulli S, Rossi Stacconi MV, Gottardello A, Pugliese A, Firrao G, Walton VM, Anfora G (2018). Large-scale spatial dynamics of Drosophila suzukii in Trentino, Italy. Journal of Pest Science, 1-12.
Tait G, Vezzulli S, Sassù F, Antonini G, Biondi A, Baser N, Sollai G, Cini A, Tonina L, Ometto L, Anfora G (2017). Genetic variability in Italian populations of Drosophila suzukii. BMC Genetics 10.1186/s12863-017-0558-7.
Tonina L, Grassi A, Caruso S, Mori N, Gottardello A, Anfora G, Giomi F, Vaccari G, Ioriatti C (2017). Comparison of attractants for monitoring Drosophila suzukii in sweet cherry orchards in Italy. Journal of Applied Entomology 10.1111/jen.12416.
Projects (COMPETITIVE CALLS)
INTERFUTURE - "From microbial interactions to new-concept biopesticides and biofertilizers (Interfuture)", MARIE SKŁODOWSKA-CURIE ACTIONS, Innovative Training Networks (ITN), H2020-MSCA-ITN-20165) (2016-2020).
RELACS - Replacement of Contentious Inputs in organic farming Systems. H2020-SFS-2016-2017 Sustainable Food Security – Resilient and resource-efficient value SFS-08-2017 Organic inputs – contentious inputs in organic farming (2018-2022).
PEI ITA 2.0 - Piani di Sviluppo Regionali Trento Misura 16 PEI "Gestione del rischio 2.0.: ricerca, monitoraggio, processi, tecnologie e comunicazione in rete, per la competitività di un'agricoltura di qualità" (2017-2019).
EuroScitizen - COST Action CA17127: Building on scientific literacy in evolution towards scientifically responsible Europeans (2018-2022).
External funding (PRIVATE AND AGENCIES)
BIO-ALIEN: Biological control of the invasive alien species Halyomorpha halys (2016-2019). PhD project UNITN/DICAM, Cofinanziato FEM/APOT (Recipient: Robert Malek).
Evoquit: L'evoluzione genomica e la divergenza molecolare di zanzare di interesse biomedico e del loro microbioma: comprendere la biologia per migliorare il controllo (2017-2020). PhD project Cofinanziato FEM/UNITN (Recipient: Nicola Zadra).
Halyokill: Nuove metodologie di contenimento della cimice asiatica,Halyomorpha halys(2018-2019). Assegno di Ricerca presso UNITN/C3A, finanziato da CBC-Biogard (Recipient: Dr. Karen Wells).
Metaclock: Estimating microbial divergence times from METAgenomic data using molecular CLOCKs: setting up a new method for applied microbiology (2017-2020). PhD project Cofinanziato FEM/UNITN. (Recipient: Kun Huang).
Vibroxyl: Studio della comunicazione vibrazionale a fini riproduttivi diPhilaenus spumarius, insetto vettore diXylella fastidiosa(2017-2020). Finanziato da CIHEAM, Bari (Recipient: Sabina Avosani).
VMD: Vibrational Mating Disruption (2018-2019). Assegno di Ricerca presso UniTN/C3A, finanziato da CBC-Biogard (Recipient: PhD Alice Berardo).
---
Person in charge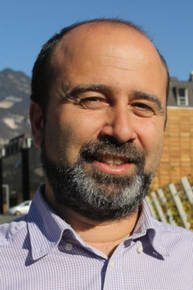 Phone 0461615144
E-mail valerio.mazzoniSPAMFILTER@fmach.it
---
Staff