OMAR ROTA STABELLI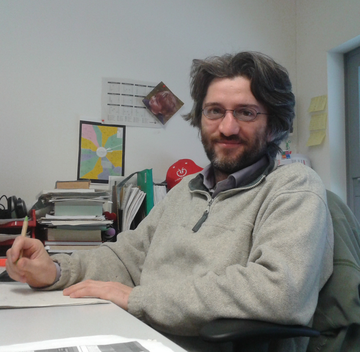 Phone

0461615393

E-mail

omar.rotaSPAMFILTER@fmach.it

Website

Publication
Omar Rota-Stabelli is a permanent researcher in the Department of Sustainable Agro-Ecosystems and Bioresources of FEM/CRI. He is leading the research line Pest Evolutionary Genomics within in the Agrarian Entomology Unit. He has been leading projects and supervising personnel since the completion of his PhD in 2010, and is collaborating with dozens of researchers worldwide on a variety of topics (phylogeny, genomics, pest management, agritech) and model organisms (Drosophila, insect and fungal pests of crops, Wolbachia, mosquitoes, plants, microbiota, viruses). He is active on all aspects of research: publishing, supervising, teaching, reviewing, granting, outreaching, congressing.
Rota-Stabelli is a molecular evolutionist by training, and is now involved in both fundamental and applied research. He is interested in how evolution drives the biology and the ecology of animals, plants, and microorganisms in particular insects of agricultural importance. He tackles this issue using various evolutionary and genomic methods, in particular comparative genomics, phylogenetics and molecular dating (clocks). Some issues he recently addressed concern the evolution of invasive insect pests and the genomic bases of their adaptation to European enviornments. He is currently applying the evolutionary genomic approach to further understand the origin and significance of insect receptors and the effect of endosymbionts on both plants and pest. These projects are relevant for Integrated Pest Management because they can lead respectively to trap amelioration and enhanced forecasting of populations in the field.
Curriculum Vitae
Education and employment
2017 Permanent Researcher (Fondazione Edmund Mach)
2015-present Contracted Professor (Docent) in Phylogenetics (University of Padova)
2011 PAT-Marie Curie COFUND Postdoctoral Fellow(Fondazione Edmund Mach)
2010 IRCSET Postdoctoral Fellow, Dept. of Biology (National University of Ireland, Maynooth)
2010 PhD in Molecular Evolution (GEE, University College of London)
2003 MSc in Biology, specialisation in Molecular Biology (University of Milan)
Grants andawards
Overall 600.000 euros including
Marie Curie Cofound Fellowship received from the Province of Trento in 2011
IRCSET Fellowship received from the Irish Research Council in 2010
Four scholarships for postgraduate projects from FEM
Young Investigator 2014 Travel Award from SMBE.
5 Poster awards at international meetings (Bologna, Firenze, Riva, London)
Supervision and Teaching
Ongoing supervision of 2PhD and 2 MS students
Completed supervision of 1 Postdoc, 2PhD and 3 MS student.
Lecturer or organiser in 9 School/workshop for EMBO, EBI, SIBE, FEM.
Course holder in Protein Structure and Prediction (2011-2012) at National University of Ireland Maynooth. Course co-holder in Evolution and Phylogeny (2015-2018) at University of Padova
Scientific and Institutional responsibilities
Vice-President of the Italian Society for Evolutionary Biology (SIBE)
Manging Committee for PhD school (FEM) and Steering committee for Biology degree (Modena Uni)
Chairperson of 3 International meetings held in Trento (Hennig, SIBE, DrosEU); and chair of 4 Symposia in International meetings (Syst Ass, SIBE).
Invited Expert at BBSRC scope meeting on D. suzukii (East Malling UK)
Reviewer for Austrian and US agencies, MBE, GBE, SysBiol, CurBiol, ProcB, GBE, MPE, Plos, BMC
Outreach, Media and Seminars
Invited to dozens of departmental and meeting lectures.
Regular performer at Researchers' Nights and other local outreach activities in Trentino including Province and MUSE events.
Various teaching activities for local schools and kindergardens on insect, animals, plants.
Various coverages from Nature news, Science, CNN, for 3 different articles.
Regular TV (Rai3) and local newspapers coverage and interviews
Major ongoing collaborations
Past collaborations with dozens of groups worldwide. Ongoing collaborations with Mark Blaxter on various pest genomics (University of Edinburgh), Geoffrey Attardo on tsetse fly genomics (UC Davis), Nicola Segata on metagenomics (University of Trento), the DROSEU consortium onDrosophila populationgenomics, (Barcelona/Freiburg Liverpool/Lyon/Wageningen, etc), Roberto Feuda and Davide Pisani on opsin and animal evolution (Bristol University), Fang-hao Wan on codling moth genomics (Chinese Academy of Agricultural Sciences).
Publications and Contributions
(end of 2017): 39 peer reviewed publications (of which 23 as first or senior authors) including multiple papers in PNAS, Current Biology, and the main journals in primary fields: MBE, Systematic Biology, J. Pest Science; m-index >2; main IF >5; h-index 21(18) and 1650 (1300) citations according to scholar (or Scopus). More than 80 workshops/congresses contributions; 40 as presenter.