CABALA_DIET&HEALTH
CirculAting Bile Acids as biomarkers of metabolic health - Linking microbiotA, Diet and Health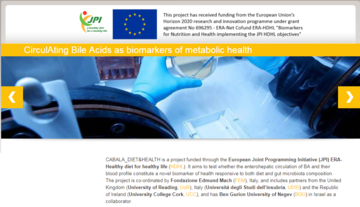 Funding: the European Joint Programming Initiative (JPI) ERA-Healthy diet for healthy life (HDHL )
Project leader: Kieran Tuohy - Fondazione Edmund Mach - IT
CABALA_DIET&HEALTH aims to test whether the enterohepatic circulation of BA and their blood profile constitute a novel biomarker of health responsive to both diet and gut microbiota composition.
The project is co-ordinated by Fondazione Edmund Mach (FEM ), Italy, and includes partners from the United Kingdom (University of Reading, UoR ), Italy (Università degli Studi dell'insubria, UDSI ) and the Republic of Ireland (University College Cork, UCC ), and has Ben Gurion University of Negev (BGU ) in Israel as a collaborator.
Circulating bile acids (BA) influence several processes linked to metabolic disease, such as inflammation, fat metabolism, glucose homeostasis and energy balance, through cell signalling receptors FXR and TGR5. The gut microbiota modulates the enterohepatic circulation of BA and microbially produced secondary BA appear to be more potent receptor agonists than primary BA, providing a mechanistic link between microbiome function and regulation of host physiology.
More info: CABALA project website