MONASTERO CABERNET FRANC Vigneti delle Dolomiti IGT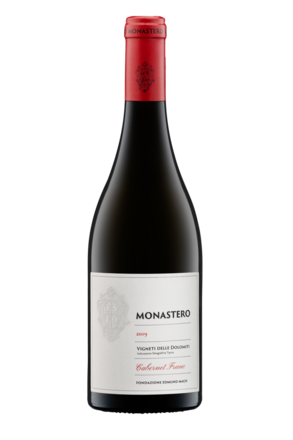 Grapes
Cabernet Franc
Production area
Tomasi plot, located in a hilly area at 250 m a.s.l. upstream of the Agricultural Institute; 25-40% slope, western exposure. Moraine deposit of alluvial terracing, mainly limestone-dolomite mixed mineralogy, discreet active lime content, deep, reddish brown, light loam texture with 15% clay content, medium-low organic matter content.
Vineyard characteristics
Planting year 1993, vine density 4.900 plants/hectare, simple Trentino pergola cultivation method.
Harvest
Grapes are handpicked during the last ten days of September, output of 50-60 quintals/hectare (1,1 kg/vine).
Vinification
Traditional red wine vinification process with 30-days maceration at a temperature of 28°C. Refined for 15 months in French oak barrels and for a further 12 months in the bottle.
Number of bottles produced
3.000
Serving temperature
Serve at a temperature of 18°C taking care to uncork the bottle one hour before pouring or serve in the decanter.
Tasting notes and table companions
Intense ruby red colour, full and complex bouquet with hints of berries and spices; elegant taste, soft, with good balance and persistence.
Structured wine suitable to match red meats and game, or to serve with cheeses at the end of the meal.
Download PDF