MONASTERO CHARDONNAY Trentino DOC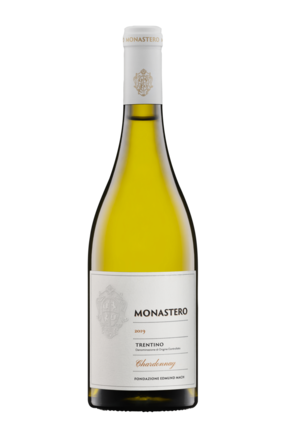 Grapes
Chardonnay
Production area
Weizacker plot, located at 230 m a.s.l. on the basal part of the alluvial Faedo fan, near the Agricultural Institute; 15-20% slope, western exposure. Deep-calcareous soil, loamy texture, clay 15%, fairly good presence of skeleton, discrete organic matter content.
Vineyard characteristics
Planted in 1980, vine density 4.400 plants/hectare, simple pergola cultivation method.
Harvest
Grapes harvested by hand around mid-September, average output of 60-70 quintals/hectare (1,3 kg/vine).
Vinification
Traditional white wine vinification process. Fermentation partly in small oak barrels and partly in steel containers. Aged for 11 months on its own yeasts in barrel and for 6 additional months in bottle.
Number of bottles produced
3.000
Serving temperature
Serve at a temperature of 12°C
Tasting notes and table companions
Straw-yellow colour with brilliant golden highlights. Warm, well-rounded aroma; typical fruity scent reminiscent of apple. Round and full to the palate, very long-lasting and complex.
Structured wine, particularly suitable to match appetizers made with fish or meat and pasta dishes in general; also ideal with smoked ham and cheeses.
Download PDF