MACH ROSÉ Trento DOC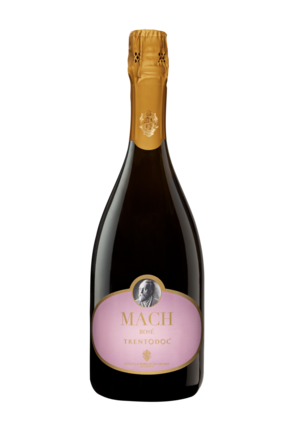 Grapes
Pinot Noir
Production area
Vigalzano plot, located at an altitude of 500 m.a.s.l. in a hilly area near the town of Pergine Valsugana; 20-30% slope, southern exposure. Land originated from metamorphic-shale outcrops, loose, franc-sandy, rich in brittle skeleton, decarbonated and neutral.
Vineyard characteristics
Planting date 2011, vine density 4.400 plants/hectare, simple Trentino pergola cultivation method.
Harvesting
Manual harvest during the third decade of September, average yield of 60-70 quintals/hectare (1.5 kg/vine).
Vinification
Traditional white wine vinification process. Fermentation performed entirely in stainless steel containers. Second fermentation occurs in the spring after harvesting. Maturing and yeast refermentation for more 24-36 months and subsequent disgorgement.
Number of bottles produced
3.000
Serving temperature and table companions
Serve at a temperature of 8°C
Tasting notes and food pairings
Pale pink colour with a slight tendency to copper. Very delicate and fruity aroma with strawberry and red berries overtones; spicy palate, very fresh and inviting, with an important mineral ending. Fine and persistent.
Perfect match with all meals with dished of shellfish, fish soups, white meat and stewed seconds. Excellent as an aperitif.
Download PDF