Moscato Rosa Vigneti delle Dolomiti IGT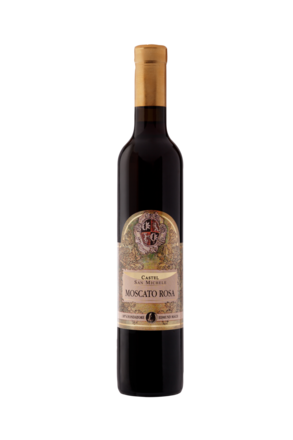 Grapes
Moscato Rosa grapes with various clonal selections.
Production area
Becchetti and Oberrauch plots, located in a hilly area at an altitude of 250 m.a.s.l., upstream of the Agricultural Institute; 25-40% slope, western exposure. Moraine deposit of alluvial terracing, mixed mainly limestone-dolomite mineralogy, discreet active lime content, deep, reddish brown, light loamy texture with 15% clay content, medium-low organic matter content.
Vineyard characteristics
Becchetti: installation dated 1960, vine density 3.600 plants/hectare, simple Trentino pergola cultivation method.
Oberrauch: planted in 1988, vine density 4.000 plants/hectare, vertical-trellised with guyot training.
Harvesting
Grapes harvested by hand around mid-October, output of 30 quintals/hectare (0,75 kg/vine).
Vinification
Crushed grapes macerated for 5 days at 23°C. Fermentation occurs in steel containers and halted when alcohol reaches 13% vol., thus retaining 80g/litre of sugar. Subsequent maturing in steel containers and then bottle refined.
Number of bottles produced
1.500
Serving temperature
Serve at a temperature of 14°C.
Tasting notes and table companions
Pale, brilliant red colour. Complex aroma with rose and spicy overtones. Full, pleasantly sweet taste.
A perfect partner for forest fruits and pies with berries in general; excellent as a meditation wine.
Download PDF