Prepositura Vigneti delle Dolomiti IGT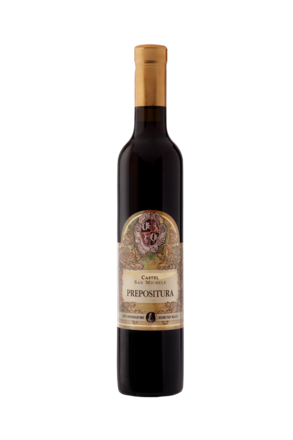 Grapes
Gewürztraminer, Sauvignon, Rhine Riesling, Chardonnay and Müller Thurgau grapes.
Production area
Maso Togn plot, located at 700 m.a.s.l. on the apical part of the Faedo fan; 20-30% slope, south-west exposure. Soil made from moraine deposit in marl-calcareous mineralogy, sub-alkaline, deep, loamy texture, clay 8-10%, rich in texture and with a good amount of organic matter.
Vineyard characteristics
Installation dated 1987, vine density 6.000 plants/hectare, guyot-type pruning method.
Harvesting
Hand-picked vintage performed during the last ten days of November, average yield of 30 quintals/hectare (0,6 kg/vine).
Vinification
Traditional white wine vinification process in stainless steel tanks.
Number of bottles produced
1.000
Serving temperature
Serve at 10°C.
Tasting notes and table companions
Bright golden yellow colour; complex, fruity and honeyed aroma; full, pleasantly sweet taste.
The ideal partner for biscuits and cheeses; a perfect meditation wine.
Download PDF