5th International workshop on grapevine downy and powdery mildew : San Michele all'Adige, Italy, 18-23 June 2006 : proceedings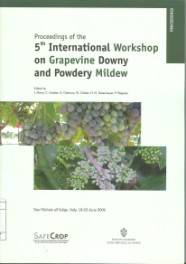 ISBN 978-88-7843-009-9
Anno edizione: 2006
Pagine: 196
Disciplina: Viticoltura
Tipologia di materiale:
Monografia
Atti del convegno sulla peronospora e l'oidio della vite, tenuto a San Michele all'Adige nel mese di giugno 2006.
The origin of this story is in the wise recognition of some researches that the knowledge on Plasmopara viticola is incomplete and presents many contradictions. So, as a logical consequence for scientists, a meeting of colleagues was called (Geneva, USA, 1991). After this first meeting some of us recognized the trueness that the subject is far to be fully understood and we may have to change our questions and approach. Moreover we realized that we must join our efforts and stop working alone in our labs and fields to just show amazing presentations in congressess (Freiburg, 1994; Loxton, Australia, 1998; Davis, USA, 2002).
Truly comparing progresses and results, exchanging our information, doubting that our approach is the only correct one will help us in getting a continuous improvement in our knowledge.
Prezzo e modalità di acquisto:
Il testo è scaricabile gratuitamente in versione pdf al seguente link: http://hdl.handle.net/10449/15517
Attenzione: la presente opera è coperta dal diritto d'autore ai sensi della L. 633/1941 e successive modifiche. La sua riproduzione è pertanto vietata con qualsiasi mezzo analogico o digitale, senza il consenso scritto dell'autore. Sono consentite unicamente la citazione o la riproduzione di brani o parti dell'opera (ad esclusione dell'intera opera) per uso esclusivamente personale e non a scopo di lucro, con citazione della fonte e dell'autore.