Annual Report 2006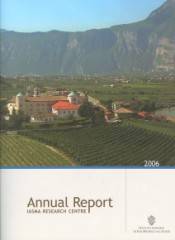 ISBN 1972-6082
Anno edizione: 2007
Pagine: 109
Disciplina: Attività  istituzionale
Tipologia di materiale:
Periodico
Tradition and innovation, past and future are complementary notions which underlie important choices recently made at Istituto Agrario di san Michele all'Adige (IASMA).
Over the last decade IASMA research activities and initiatives have made significant strides in terms of quantity and quality. Advances made in areas such as oenology, advanced biology and environmental studies have placed San Michele at the forefront of national and international science. To reach this level, we recently organized the research centre so that it could better respond to evolving research needs. In doing so, we attempted to develop the potential of available human resources, while at the same time we adopted state-of-the-art technologies and innovative approaches which make it possible to handle new scientific challenges.
Prezzo e modalità di acquisto:
Il testo è scaricabile gratuitamente in versione pdf.