N. 1 (one) PhD Scholarship co-sponsored by FEM through a collaborative project between University of California and Fondazione Edmund Mach - deadlin...
Large herbivore migration under environmental change in temperate ecosystems: the Greater Yellowstone and Central Europe cases.
A co-funded PhD position is available through a collaborative project between University of California, Berkley, USA (Dr Arthur Middleton), and Fondazione Edmund Mach, Trento, Italy (Dr Francesca Cagnacci).
Project Logistics: The candidate will spend time at both Institutions, and will be fully involved in the network of collaborations of the Supervisors. The project will mainly utilize existing datasets, but may also include a fieldwork component. IMPORTANTLY, the candidate will have to be selected as a suitable graduate student by the Department of Environmental Science, Policy and Management University of California, Berkeley. INFO .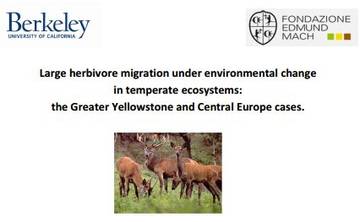 Thursday 03 November 2016
THE APPLICATION DEADLINE IS THE 1ST OF DECEMBER 2016.
Application:
Interested, motivated candidates should send:
a) CV
b) cover letter to the project supervisors
as soon as possible before the 27th of November 2016: Dr Arthur Middleton, amiddleton@berkeley.edu and Dr Francesca Cagnacci, francesca.cagnacci@fmach.it. Dr Middleton and Dr Cagnacci will contact suitable candidates for an informal interview before the UC Berkeley ESPM application deadline. For any further enquiry, please contact us.
Project Description:
The student is invited to study how large herbivore migratory behavior is affected by human-induced and biotic changes, including large predator reoccurrence, climate change, and agricultural activity. The work may also evaluate the influence of large herbivore migration on livestock predation patterns. The study systems in which we work are the European Alpine range and other contrasting European contexts (EURODEER project ), and the Greater Yellowstone Ecosystem in the Western USA. This project will produce theoretical and applied understanding of ecological processes in real and iconic Anthropocene scenarios.