PhD position at the University of Trento, Department of Civil Environmental and Mechanical Engineering, and Fondazione Mach (A8 - "AVATAR") – dead...
The Department of Civil, Environmental and Mechanical Engineering of UNITN and the Research and Innovation Center of FEM are jointly offering the PhD position "AVATAR - AdVAncing Tools for the Assessment of ecological flow in Rivers". The Phd scholarship is fully funded for three years, starting 1 November 2018, and it is aimed at quantitatively detect the main traits of biological communities that respond to flow regime alterations and to develop new effective metrics that can be used to design and assess e-flows.
Guido Zolezzi and Walter Bertoldi (UNITN), and Maria Cristina Bruno (FEM), will supervise the candidate.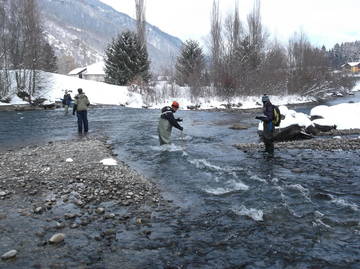 Wednesday 18 July 2018
Candidates are required to posess (by October 31st at the latest)​ ​a relevant MSc degree in environmentally-related disciplines (Environmental Engineering, Environmental Sciences, Natural Sciences, Environmental Management, etc.) and knowledge in at least one of the following: Hydrology, Fluvial geomorphology, Stream Ecology, River Hydraulics, Statistical data analysis
The deadline for application is August 22, 2018.
To apply and for further details see the following link . For further information you can also contact Cristina Bruno: cristina.bruno@fmach.it.
The interested candidates should refer to scholarship A8: AVATAR - AdVAncing Tools for the Assessment of ecological flow in Rivers