Conference "Raising Researchers' Voices - opinions on jobs, careers and rights", 21–22 November 2013, Brussels (Belgium)
The "Raising Researchers' Voices - opinions on jobs, careers and rights" is a 2-day meeting for researchers to debate and talk about issues affecting modern research, research careers, mobility, funding and policy in the European Research Area (ERA). It will draw researchers from the fields of science, the arts and humanities to Brussels. It will aim to be a two day interactive discussions, social media will play a large role in the event which will also include a live 'Science Slam' and 'Elevator Pitch'.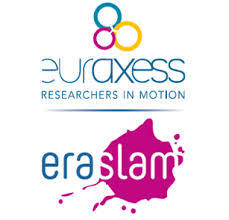 Present your views and ideas on career-related topics to the conference audience: the stage will literally be yours!!
You can share your ideas in two ways :
1 – Get your idea across quickly by signing up as one of the "EURAXESS Elevator Pitchers": Choose one of the 4 questions below, send to: conference@euraxess.org a short "For" or "Against" statement (10 line max.) and you may be selected to pitch.
Do researchers face a job-rich future?
Researcher mobility in the 21st century - are all forms valued?
Have working conditions really improved for researchers?
Is Europe the best destination for researchers?
You will have a maximum of 2 minutes on stage to convince the audience of your opinion. Voting at the end will show how much support your pitch received. Don't forget, your statement should be concise and clear, interesting and convincing.
2 – Become a "EURAXESS ERA Slammer" and give the audience an insight into your career: share good or bad moments from your career, development, international experience or anything related to your profession as a researcher and get on stage! You have 5 minutes to present your slam using any technique or tool you like - presentation, video, role-play, storytelling – whatever comes to mind and gets your message across. The audience will vote for the best slam, and the winner will be invited to the ESOF conference in Copenhagen in July 2014 as speaker and guest. Upload a 30 second video featuring your slam on YouTube and send the link directly to: conference@euraxess.org. If your pitch/slam is selected, you will be informed by beginning of October. Check out the terms and conditions of the ERA SLAM.
Selected pitchers and slammers will be offered a return ticket to Brussels, hotel accommodation and meals during the conference.
Deadline for submission: Friday 20th September, 5.00 PM CET
Programme and registration: http://euraxess.teamwork.fr/en/programme