Temporal and spatial analysis of ecological data
Da Monday 26 October 2015 ore 9:00 am a Thursday 29 October 2015 ore 5:30 pm
San Michele all'Adige - Italy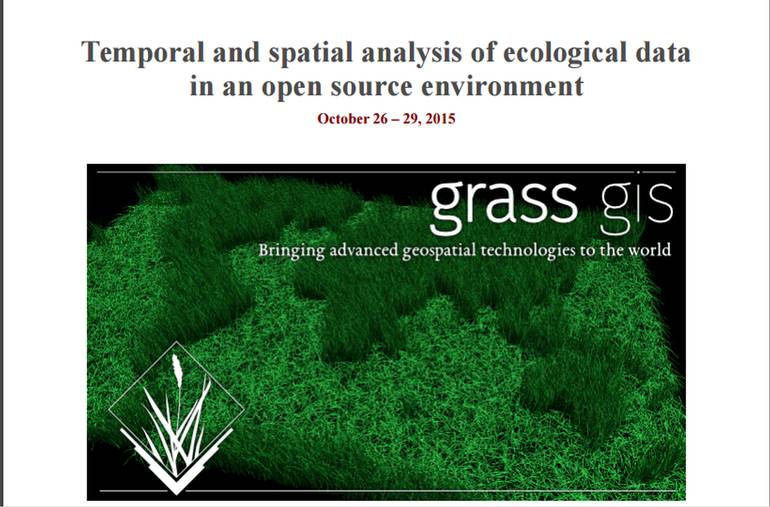 Temporal and spatial analysis of ecological data in an open source environment
WHY THIS COURSE?
Much of the ecological research demands know-how in advanced processing of spatio-temporal datasets. Last two decades witnessed remarkable change in the way data is disseminated over web and many institutes adopted open data policies. With the free availability of big amount of geodata, the open source tools to process them has also grown to maturity. The raising trend of openness in data and software is a welcoming change in the scientific community. This course deals with spatio-temporal data analysis using one of the most popular open source software – GRASS GIS 7. During this intensive 4 days course, the students will become familiar with GRASS GIS and its interaction with the R environment. The participants will gain a solid understanding on topics like spatial data, landscape fragmentation, temporal data and satellite image analysis, handling big amount of data for ecological research using GRASS GIS. Moreover, the last day will be devoted on spatial data analysis using GRASS-R interface.
TARGET AUDIENCE
The course is aimed at PhD/MSc students and early career researchers who deal with spatio-temporal ecological data. A maximum of 20 participants will be accommodated.
PRE-REQUISITES
Basic knowledge in dealing with spatial data is expected. It will be an added advantage to already have experience in open source software packages and scripting using bash and R. The course is planned at
an advanced level.
HOW TO APPLY
IRSAE participants – Email the application form (email subject: TS-GRASS course 2015), containing a brief description of your PhD project and description of the relevance of the course to your research, along with a CV to the local organizers (pgiscourses@fmach.it) and in copy to Lucrezia Gorini (lucrezia.gorini@hihm.no).
Non IRSAE participants – Send a motivation letter (1 paragraph) justifying your participation in the course along with the CV, email to local organizers (pgiscourses@fmach.it).
IMPORTANT: Please add the clause "I authorize Fondazione Edmund Mach to use my personal data in accordance to decree 196/2003." at bottom of your CV, otherwise we cannot process it
internally.
FEES
IRSAE participants – Fees, board and lodging are covered for participants from IRSAE partners, who may also apply for a mobility grant to cover travel costs, after admission to the course (see application form at http://irsae.no/grants/ .
ICA-OSGeo students – Students/early career scientists who are part of ICA-OSGeo labs initiative ("Geo For All") will pay discounted rates of 150€. The fees include t-shirt, lunch, coffee breaks for 4 days and the social dinner. The list of the labs under this initiative is here: http://www.geoforall.org/locations/
Non IRSAE participants – Students: 200€. Others: 250€. The fees include t-shirt, lunch, coffee breaks for 4 days and the social dinner. We can assist you in finding an appropriate accommodation near the Fondazione Edmund Mach. Guest rooms can be pre-booked upon request; however, we will have to check for their availability.
SELECTION OF CANDIDATES
• Motivation letter – 1 Paragraph (max 30 points)
• Publication record derived as sqrt of number of publications and multiplied by total citations (max 20 points)
• CV (max 20 points)
• Contributions to the open source software community, please claim/update as needed your page on https://www.openhub.net/ (max 20 points)
MORE INFO