CESARE LOTTI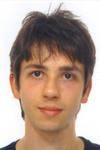 Phone

0461615106

E-mail

cesare.lottiSPAMFILTER@fmach.it
Research activity
He supports the activity of the Metabolomics platform group with the samples preparation for HPLC-MS and GC-MS.
Research interests
Cesare's main interest is to improve his analytical ability and knowledge as much as possible in analytical chemistry field.
Curriculum Vitae
Cesare studied Chemistry at "Istituto Tecnico Industriale, Michelangelo Buonarroti" in Trento; where he got his high school leaving qualification in July 2011. He started to work at FEM-IASMA in August 2011 as lab technician.