Digital ALPTREES Conference 2021
Da Thursday 25 February 2021 ore 10:00 am a Friday 26 February 2021 ore 5:00 pm
Sustainable Use and Management of Non-Native Trees in Urban, Peri-Urban and Forest Ecosystems in the Alpine Region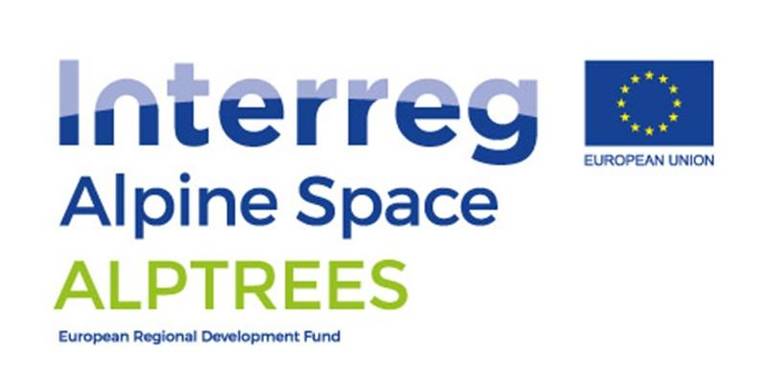 We are inviting citizens, experts, and stakeholders to share their experiences and views on non-native trees, climate change in the Alpine region, or other related topics for an oral presentation or poster presentation for the following sessions & workshop:
Session 1 | RISKS of invasive Trees | 12:30 - 14:00, 25th of February
Session 2 | MANAGEMENT of NON-NATIVE TREES | 15:00 - 17:00, 25th of February
Session 3 | UNDER 18 Session | 13:00 - 14:30, 26th of February
Policy Workshop | Developing a STRATEGY | 9:30 - 11:30, 26th of February
Abstract submission
Please use the registration link to submit your abstract: https://forms.gle/xGhmXrnXPyZZ3Hxp7
You are invited to actively participate in the ALPTREES Conference. You can choose to submit:

Poster presentation (format A,594 x 841 mm)
Oral presentation (10min + 5 min discussion)
Although the conference is mainly let in English, you are invited to submit an abstract in all official languages of the Alpine Space:
ITALIAN, FRENCH, SLOVENIAN, GERMAN.
The abstracts, oral presentations, and poster presentations can be made publicly available in the ALPTREES Knowledge Hub and in the ALPTREES website & social media channels. If you wish to share your poster, please submit a PDF of your poster to katharina.lapin@bfw.gv.at by February 15th, 2021. All presentations will be recorded. If you wish not to be recorded during your presentation, let the moderator know shortly before the presentation.
The Abstract will be published online in a book of abstracts shortly after the conference. Please name all contributing authors and let us know if you and your co-authors agree.
Registration
Please register here for the conference: https://forms.gle/xGhmXrnXPyZZ3Hxp7
Find more information about this conference on the official website .