Fruitomics
Integrazione di piattaforme high-throughput applicate all'agricoltura, alla nutrizione e all'ambiente: raccogliere i frutti delle tecnologie "omiche"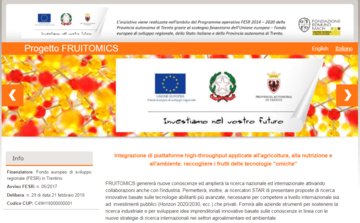 Funding: Fondo europeo di sviluppo regionale (FESR) in Trentino
Coordinator: Urska Vrhovsek - Fondazione Edmund Mach - IT
Timeframe: 21.02.2018-20.02.2020
FRUITOMICS represents one of the most important bioeconomy infrastructures in Trentino, supporting the FOOD, AGRO-ZOOTECHNICAL and ENVIRONMENTAL sectors. It will generate new knowledge to valorize agri-food and territorial products and create new business opportunities.
The platform, which has already been identified in the Multiannual Research Program of PAT, has the aim to integrate and strengthen existing infrastructure at the Fondazione Edmund Mach (FEM) and link FEM to other national and international research infrastructure and clusters (e.g. Elixir, ESFRI EMPHASIS, cluster agrifood). It works on the priority research areas agro-food, quality of life, energy and environment by establishing on one site access to specialist skills and advanced high-throughput omics in synergy with other FEM and STAR (Trentino High Education and Research System) research infrastructures.
More info: Fruitomics project website