MONASTERO PINOT BIANCO Trentino DOC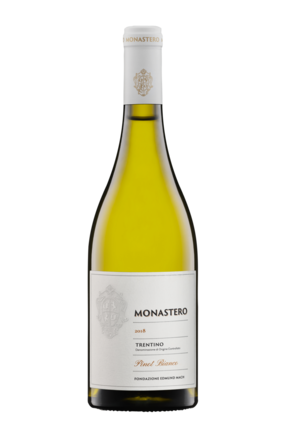 Grapes
Pinot Bianco grapes in different clonal selections
Production area
Pozza plot, located at 225 m s.l.m. on the basal part of the alluvial Faedo fan; 10-20% slope, southern exposure. Calcareous matrix, deep, medium texture, discrete presence of skeleton, good organic substance equipment, balanced content of nutrients.
Vineyard characteristics
Planting year 2009, vine density 4.500 plants/hectare, simple Trentino pergola cultivation breeding.
Harvest
Manual harvest conducted in the middle of September, average yield of 60-70 quintals/hectare (1,45 kg/vine).
Vinification
White wine vinification process with short cold maceration of crushed grapes. Fermentation conducted partly in stainless steel tanks, partly in small oak barrels. Aged for 11 months on its own yeasts in barrel and for 6 additional months in bottle.
Number of bottles produced
3.000
Serving temperature
Serve at 10°C
Tasting notes and food pairings
Straw yellow with greenish reflections; on the nose it expresses complex and sophisticated notes, on the palate it is pleasantly fruity and mineral.
An excellent aperitif, perfect for dishes based on fish, poultry or vegetarian dishes; does not fear to pair with asparagus.
Serving temperature