PIANTA 9 Vigneti delle Dolomiti IGT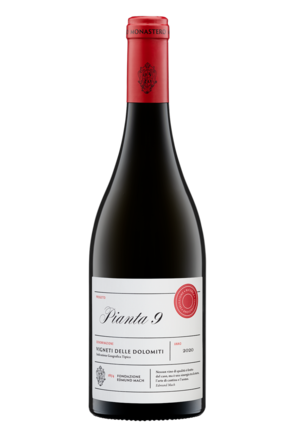 Grapes
Iasma Eco 1 (Teroldego x Lagrein)
Production area
Molini plot, located at 230 m a.s.l. on the basal part of the Faedo Fan, near the Agricultural Institute; 15-20% slope, western exposure. Deep, mainly calcareous; silty-loamy texture, discrete presence of skeleton and organic matter endowment.
Vineyard characteristics
Planting year 2016, vine density 6.000 plants/hectare, vertical-trellised, guyot training.
Harvest
Grapes harvested by hand on the third decade of September; output of 80-90 quintals/hectare (1,4 kg/vine).
Vinification
Traditional red wine vinification process with maceration for 15 days at a controlled temperature. Malolactic fermentation entirely performed in small French oak barrels.
Number of bottles produced
1.000
Serving temperature
Serve at 18°C
Tasting notes and table companions
Intense ruby red colour; complex bouquet with fruity notes of berries, accompanied by floral sensations (rose and violet) with spicy-balsamic reflections. Elegant, full-bodies, with a refined and persistent tannic structure.
Complex wine, suitable to match tasty white or delicate red meats, and medium-aged cheeses. Excellent in combination with traditional Trentino hams.
Download PDF