Annual Report 2008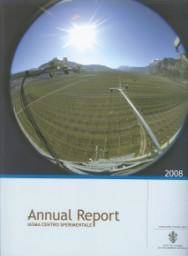 ISBN 1972-6082
Anno edizione: 2009
Pagine: 135
Disciplina: Attività  istituzionale
Tipologia di materiale:
Periodico
We are proud to present for the third year running the Annual Report,an extensive selection of the work and activities carried out in 2008 by the Centre for Research and Innovation of the Agrarian Institute of San Michele all'Adige.
This third edition is also full of scientific concepts and ideas, bearing witness to the multifarious research activities carried out by the Edmund Mach Foundation. This year marked a further stage on the journey that the institute began with its transformation into a private foundation. On the first of January 2009 the new organisational regulations came into operation, the most significant aspect of which was the separation of research and experimentation. The centres have changed their names and functions thus speeding up operational processes and allowing the Institute to concentrate more clearly on research, training and technical consultation in response to the province's demands. The new set-up will also see San Michele integrated into a national and international network of organisations active in these sectors, particularly with respect to research and innovation.
Past and future, tradition and innovation, reputations and projects: the equilibrium has, I hasten to point out, not always been easy to maintain but it has been at the heart of the important decisions recently taken by the Institute. We are committed to keeping to this path in the future: while, on the one hand, the Centre for Research and Innovation will firmly maintain its links with Trentino, it will also continue to develop and enhance the excellent standards which already distinguish its activities. It must be stressed that its research activities are a direct response to the specific demands of the Trentino territory; in other words, it is the concrete needs of agriculture in Trentino which spark the ideas and proposals which are then realised in international projects and which, developed to their full potential, lead to results of significant impact and interest on an international level. The Annual Report, then, mirrors and bears witness to the team work which has brought and will continue to bring the research activities at San Michele to the whole world through collaborations, partnerships, encounters in their various forms and exchanges of researchers.
Prezzo e modalità di acquisto:
Download here the pdf version.