Annual Report CRI 2007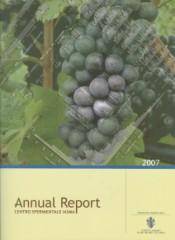 ISBN 1972-6082 ISSN 1972-6082
Anno edizione: 2008
Pagine: 121
Disciplina: Attività  istituzionale
Tipologia di materiale:
Periodico
For the second year running, this Annual report presents a selection of work in progress at the Research Centre and describes the activities carried out there in 2007. Although by no means exhaustive, given the numerous topics dealt with by our researchers, its aim is to show what is being done at IASMA to improve the strategies and instruments used for improving the balance between food and the environment.
Above all, though, the Annual report acknowledges the scientific curiosity and the commitment and enthusiasm all of those who, through their work, have dedicated themselves to turning their ideas into outstanding practical solutions in support of the local and international community.
Prezzo e modalità di acquisto:
Download here the pdf file.