Call "Visiting expert 2018" to attract experts and scholars
The Autonomous Province of Trento is launching a call for applications for "Visiting expert " (according to article 22 of the Provincial Law 2 August 2005, no. 14). The aim of the call is to strengthen the international dimension of the Trentino's research and higher education landscape by attracting experts and scholars, with high scientific qualifications and proven international reputation, working abroad.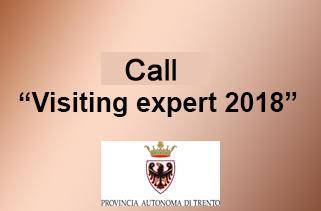 Candidates shall:
have (have had) a period of residence in Trentino of at least 10 years;
be in possession of the academic title of doctor of research, or equivalent, or have at least 4 years of research experience (full-time equivalent), after obtaining the degree which formally allows them to embark on doctoral studies;
have been carrying out teaching or research activities, for at least 30 months continuously, at foreign universities or research organizations of high scientific reputation.
Applicants should submit a research or a teaching programme in key strategic areas for the Trentino's research system. The proposed programmes should be agreed and developed with the host institutions, i.e.:
University of Trento (www.unitn.it),
Bruno Kessler Foundation (ww.fbk.eu),
Edmund Mach Foundation (www.fmach.it)
Science Museum -MUSE (www.muse.it)
Public research organizations, according to the definition of the EC, whose registered office or operating units are located in the Province of Trento.
The duration of the visits varies from 3 to 6 months, to be carried out normally on an ongoing basis.
Application forms must be filled out and submitted by 2 October 2018, 12.00 AM (noon) - Trento local time.
This initiative is promoted within the framework of Trentino Global Network project.